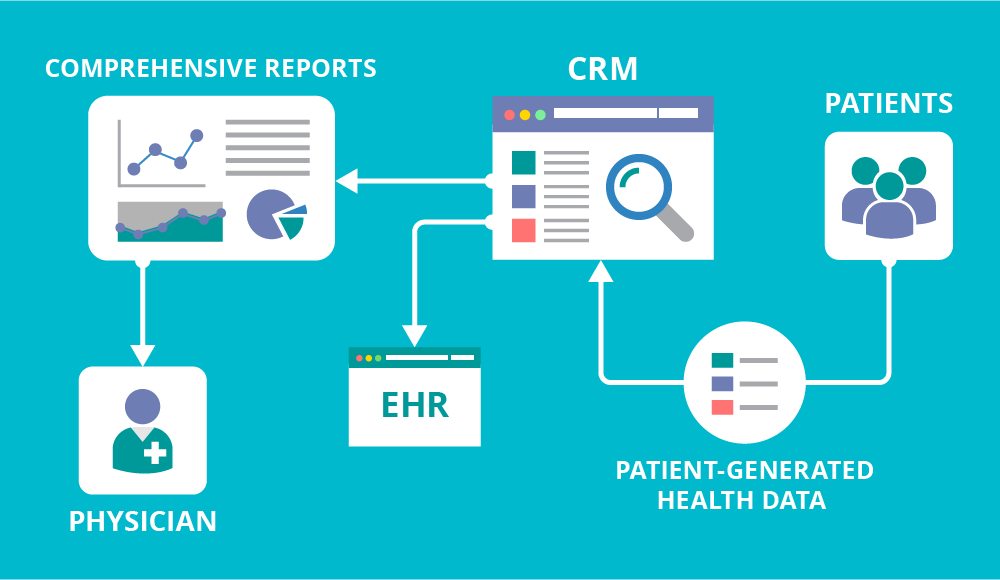 The healthcare industry is in a state of flux. It has been for a few years now. Ever-changing regulations and the push towards value-based care already had caregivers scrambling to adapt their practices to the industry's newer, digital-driven, experience-centric avatar.
The COVID pandemic struck out of nowhere and further, accelerated the shift Healthcare was going through – bringing patient experience at par with global standards.
Healthcare CRM enables you to enhance the overall experience for both your existing patients and potential ones while also streamlining the internal processes of your healthcare organization like admin, sales, and resource management.
This enables you to engage your patients better by personalizing communication and delivering the experience they demand from their healthcare providers. The CRM solution also treats patient data with the utmost security.
Let's dive deeper into how a healthcare CRM can help your practice and how you should go about choosing the right solution for your organization.
What is a Healthcare CRM?
Patient experience is fast becoming the leading industry driver for CRM adoption. Studies showing that the global healthcare CRM market will reach $26.35 billion by 2027 reflect this trend.
Healthcare Customer Relationship Management system is essentially a comprehensive and integrated suite of tools that uses data and analytics, coupled with patient engagement best practices, to improve the entire caregiving experience for both patients and providers. Providers today have no shortage of patient data. There's probably more data available than anyone knows what to do with!
But merely having access to data does not automatically create valuable insights to improve the patient experience. Patient data needs to be analyzed to uncover hidden opportunities. This is what healthcare CRM software is so adept at!
Leveraging automation and Artificial Intelligence, they can spot trends among your patient population and help you create personalized healthcare experiences for every single patient.
Below is a list of some of the types of data healthcare CRM systems can keep track of:
Demographic Data (Age, Gender, etc.)
Contact Info & History (Calls, emails, messages)
Patient-filled forms (Registration, Consultation, Feedback)
Billing History
Medical Insurance
Past and Upcoming Appointments
Symptoms and Allergies
Treatment History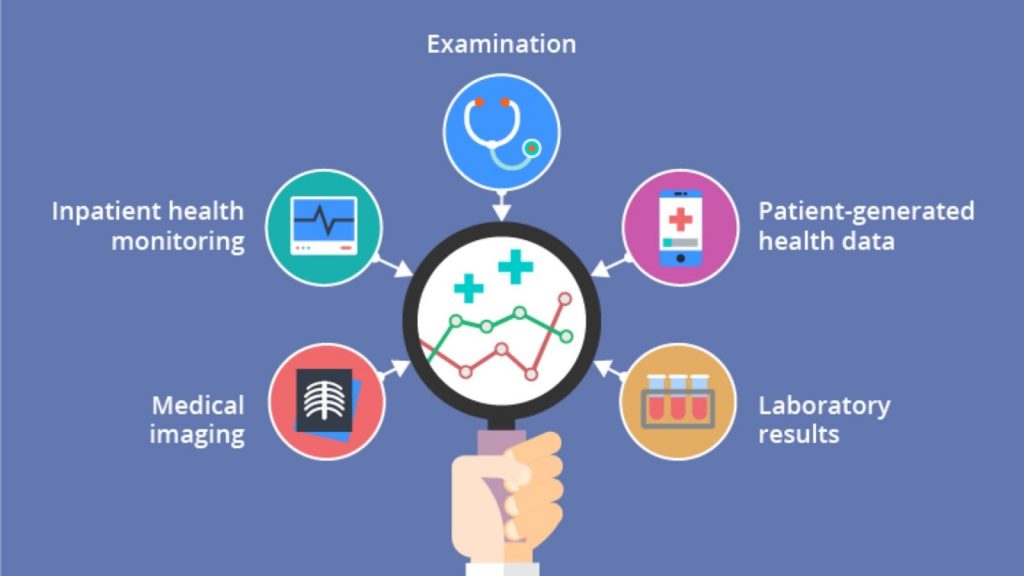 By consolidating data from all these sources and combining it with other information from EHR systems, CRM software can create accurate patient profiles that reveal new engagement opportunities.
Moreover, you have access to all the patient information on a single platform that can also be used to contact and engage patients over the web, apps, emails, calls, and SMS, again from the CRM software itself. Your staff can also schedule appointments, generate prescriptions, and record notes, all from the same platform.
Healthcare CRM System vs. EHR System - What's Best For Your Clinic?
It's often considered an either-or situation between EHRs and CRMs. But the fact is that they complement each other and cannot function without each other. An EHR or Electronic Health Record system has a holistic view of patient records, but it cannot process them into meaningful insights. A CRM can tailor care delivery to suit each patient, but it needs access to the health records to do so.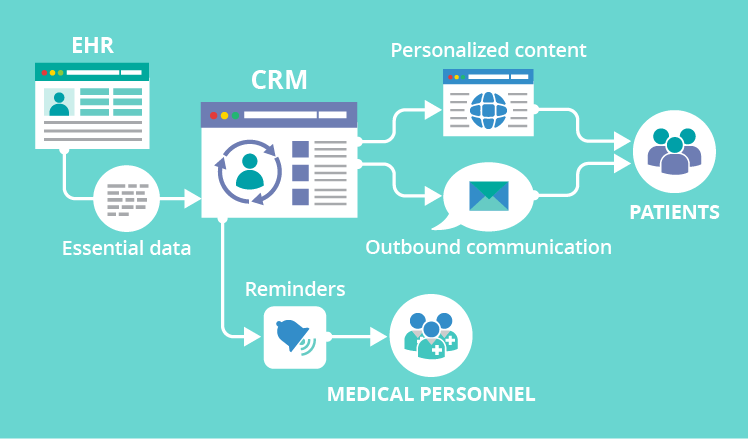 Hence, it's beneficial for your practice to complement your EHR system by investing in healthcare CRM software. Not only can you generate better patient outcomes and improve the patient experience as a result, but you can also realize an impressive ROI on your CRM software.
Studies have shown that U.S. providers with superior patient experiences have 50% higher financial performance than those with sub-par patient experiences.
What's Special About a Healthcare CRM?
It's always amazing to hear about the latest technological advancements in healthcare, but they rarely matter unless they deliver tangible benefits for your medical business.
What exactly can Healthcare CRM software do for your practice?
1. Attract More Patients With Confidence
Creating targeted campaigns based on your existing reviews and overall patient mix can proactively bring in more patients to your practice.
2. Personalize Your Patient Outreach
When you have data-driven insights, you can craft personalized emails or messages for patients, suggesting them, say, a diagnostic test or a consultation with a specialist. For new patients, the system can help you create campaigns based on specific patient segments.
3. Integrate With Your Existing Marketing Tools & Systems
Your business will likely have existing software and tools, such as the EHR, Calendars, Staffing tools, and departmental information systems (radiology, labs, etc.). A healthcare CRM will easily integrate with each of them to enable a single source of truth and make your life easier.
4. Create Automated Email & SMS Engagement Campaigns
Once you have identified the patients to reach out to, you still need to send out engagement via apps, calls, emails, or SMS. The CRM solution will automate this step for you and release your staff bandwidth for other clinical activities.
5. Use Real-Time Reports For Better Tracking
Measuring the performance of your business is essential not just for your forecasts but also to determine whether your practice is satisfying the patient outcomes mandated by value-based care. Medical CRM software helps you generate custom reports, often taking into account data from your business intelligence software as well.
3 Questions You Should Ask Before Buying Any Healthcare CRM
You might be sold on the promise of a shiny, new CRM software, but before you go ahead and invest in one, you should ask yourself a few questions:
1. What exactly do I need a CRM for?
List down the top business problems you wish to solve with the new CRM solution and the must-have features that it needs to address those problems. e.g., robust data security protocols, the latest communication channels for patient engagement, business intelligence capabilities, etc.
2. Will the new system integrate with my existing tools?
You don't want a situation where your existing tools and software are made redundant after introducing the new CRM system. Or a scenario where the solution is not integrated well with your other software, resulting in data duplication and wasted effort.
3. How willing is my staff to learn the new system?
Learning a new system is always an extra thing to do for healthcare professionals, who're almost always starved for time fulfilling their existing duties. Ensure that the system you're going with is easy to pick up and the training process is comfortable for them.
Top 10 Best CRMs For The Healthcare Industry
To make it a little easier for you, we have compiled a list of the leading Healthcare CRMs available in the industry today. Hopefully, this will help you narrow down your choice by comparing your needs against the features available in these offerings.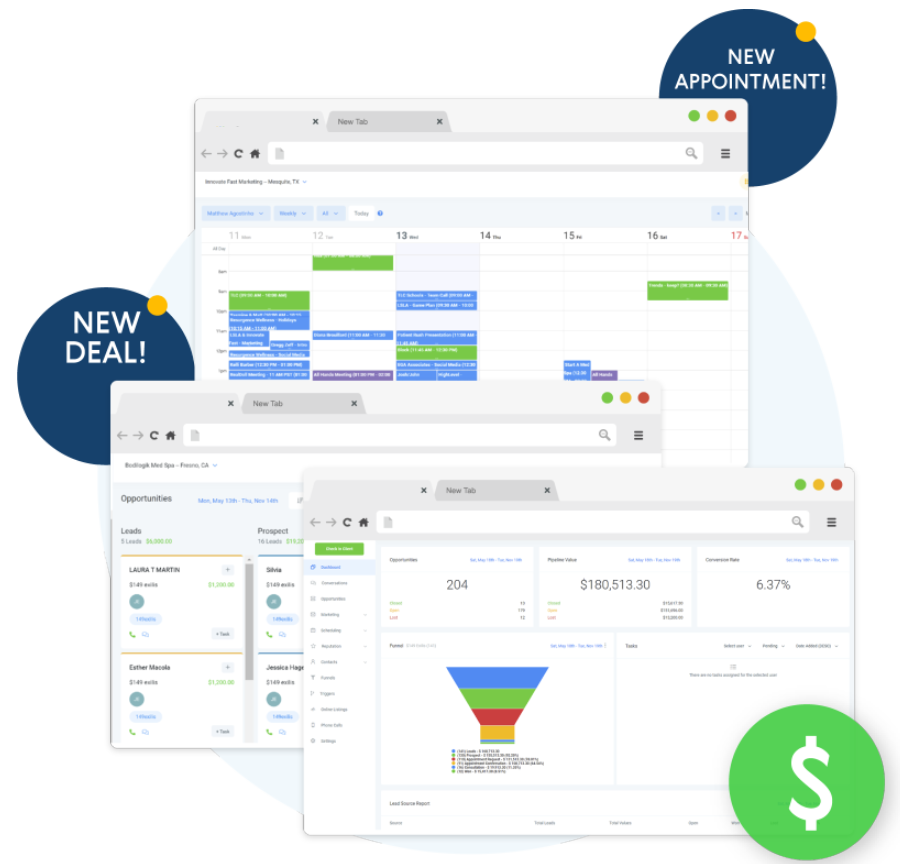 Turnkey CRM is by far the most promising medical CRM software out there, focusing on clinics & independent physicians. The all-in-one patient engagement and sales & marketing platform captures the pulse of the healthcare business, and the team's acclaimed support services further bolster the emerging solution's dominance in the market. It also offers a 14-day free trial to sweeten the deal.
2. Salesforce Health Cloud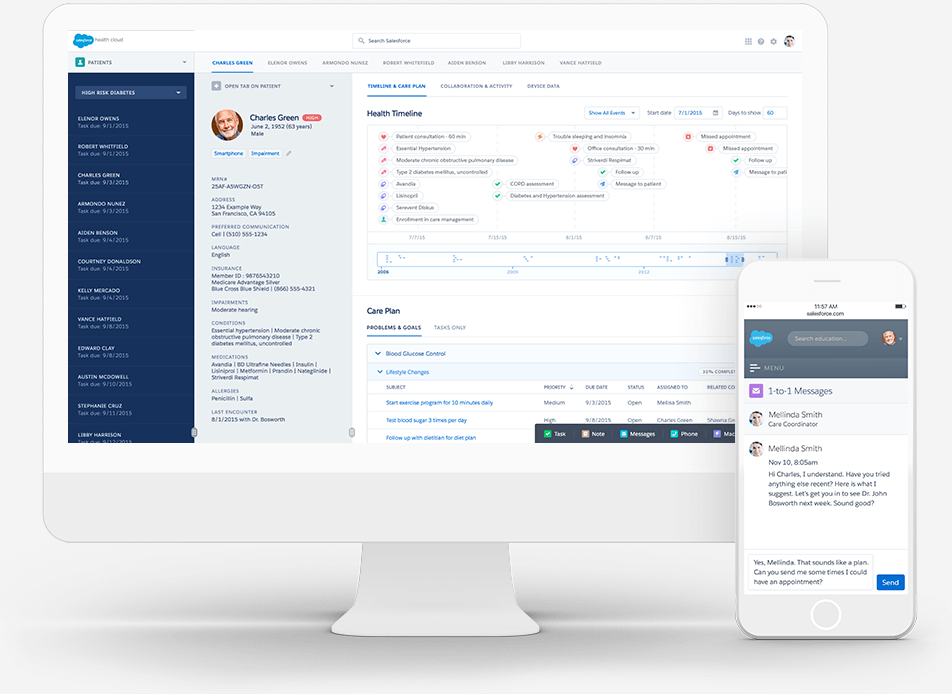 Salesforce is a well-known name in the SaaS space, and their CRM solution brings their rich legacy and expertise to the healthcare industry. Though it might feel a tad expensive, its superior patient experience features and fluid interface should keep it at the top of your list.
monday.com is best suited for practices looking for project management and a CRM tool in one single platform. With ample customizations available, monday.com also offers a free trial for you to experience their services without a commitment.
Simple yet powerful, Pipedrive is one of the most user-friendly CRM solutions available. With custom reporting tools and ample integrations with your email and marketing tools, Pipedrive has a lot going for it.
Nimble stands out from many other competitors in terms of its capabilities around social listening and patient interaction history that are used to build and update robust patient profiles. Nimble also offers a free trial and competitive per-user rates after that.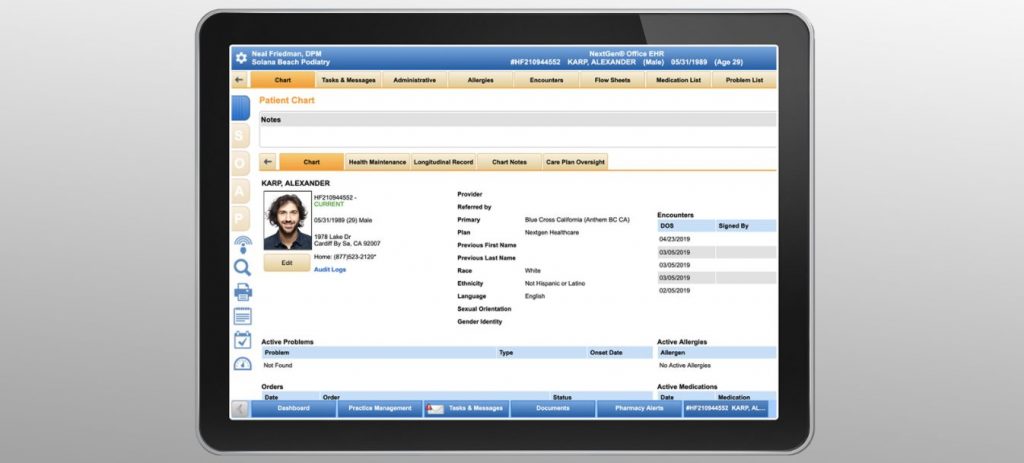 NextGen Office by NextGen Healthcare is a holistic practice management solution, combining an EHR, CRM, patient portal, and other tools into a single integrated platform. NextGen has a provider experience focus that simplifies the capture of patient interactions that automatically improvesensurethe patient experience.
Bitrix24 CRM is used by millions of businesses worldwide. Its extensive integration with social media and messaging channels like Facebook, Instagram, iMessage, Telegram, and others makes it a powerful tool suited for healthcare practices.
Suited for small and mid-sized businesses, Really Simple Systems CRM offers plenty of customizations and integrations to enable a bird's-eye view of your entire sales pipeline and patient relationship management.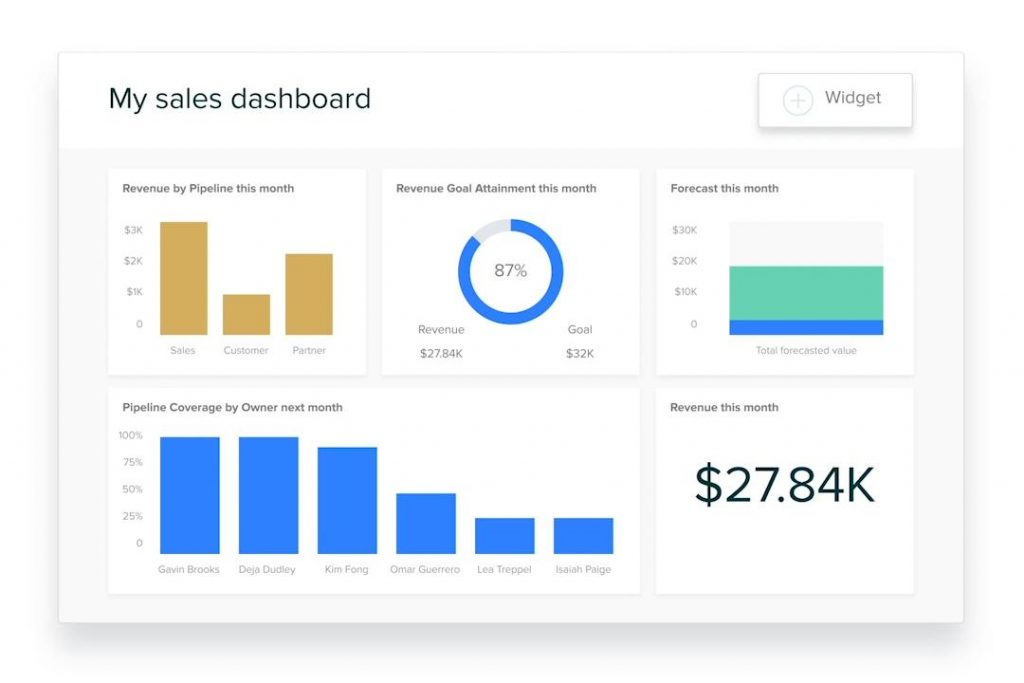 Zendesk's CRM software is widely-acclaimed across industries. Its healthcare-focused CRM system offers industry-leading customer service and a variety of patient outreach tools to ensure your patients always remain at the heart of your business.
HIPAA CRM keeps patient data security front and center, evident by its name. A simple, easy-to-use, and cost-effective option, it offers rich reporting tools and staff management capabilities.
HIPAA Compliance & How It Relates To a Healthcare CRM
The Healthcare Insurance Portability and Accountability Act (HIPAA) of 1996 ensures the protection of sensitive patient data and easily switch health insurance between payers.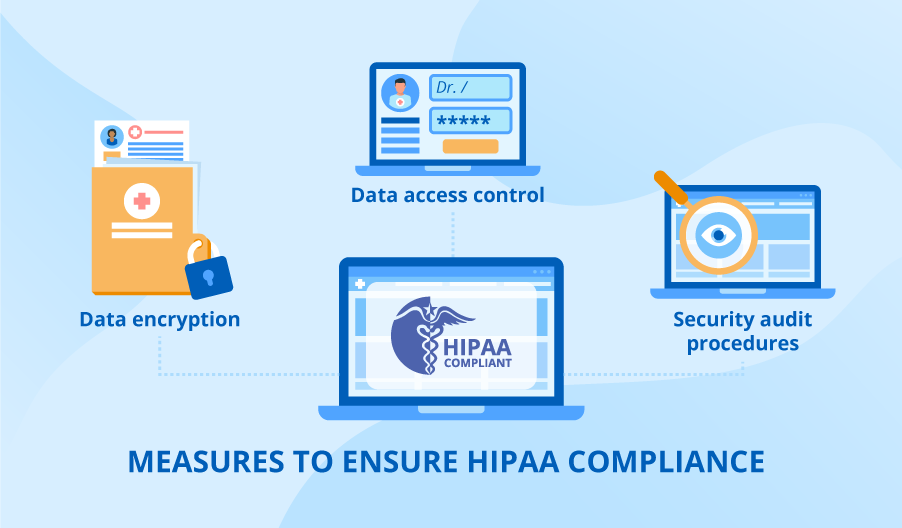 With the rapid adoption of healthcare CRM software, massive amounts of patient data are exchanged between healthcare organizations. A HIPAA-compliant CRM makes sure that this exchange adheres to the regulatory compliance guidelines while also leveraging the data to benefit patients with superior care delivery experiences.
HIPAA violations are penalized heavily and can have far-reaching consequences for your practice. It's, therefore, essential for your business to use a CRM system built around HIPAA compliance. Turnkey CRM is one such solution that values data security above all else.
Who Benefits The Most In Your Medical Facility With a Healthcare CRM?
Patients are directly benefitted from improved and personalized experiences that also help improve their health over time.
2. Internal Staff Benefits
With automation and data-powered insights, you can avoid unnecessary administrative tasks and chances of burnout for your staff while simultaneously enriching their professional satisfaction.
An up-to-date and accurate patient profile enables your front desk staff to deliver curated and valuable interactions to patients every time, whether in-person or virtually.
Conclusion - To Buy Or Not To Buy a Healthcare CRM?
The state of the healthcare industry today is primarily driven by the urgent need to enhance the patient experience. With the paradigm shift towards value-based care making it more essential than ever to have a comprehensive patient relationship management system in place, the importance of healthcare CRM systems will only increase from here.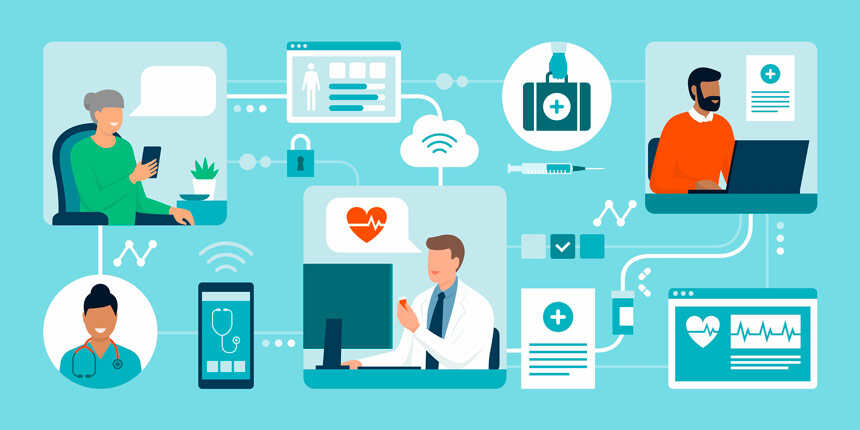 The question is no longer if you need to get on board. Instead, it's how soon you can transition into a patient-centered, data-driven, and future-focused medical practice.
Reach out to us today to find out how Turnkey CRM can help you on your journey to excellence.